I am a child of the Cold War. My father was in SAC, and I wasn't very old when I learned what the big silver airplanes (KC-135 tankers) he worked on were for. Hence, my view of China was, from a young age, not exactly positive. It was also badly informed. VERY badly informed.
WHAT JIM THOUGHT CHINA IS
Paul Muni (Wang Lung) and Luise Rainer (O-Lan) in "The Good Earth" (1937) (1)
Chinese soldiers from the movie "Pork Chop Hill" (1959) (2)

"American Imperialism is the most fiendish enemy of world peace!" (3)

SOMETHING A BIT CLOSER TO WHAT CHINA ACTUALLY IS
Shanghai (4)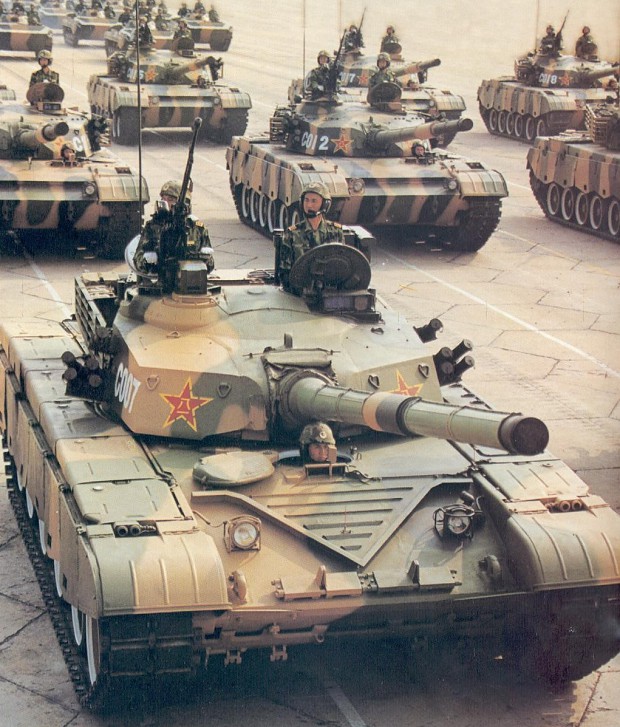 Type 96 main battle tank (5)
Volunteer students welcome freshmen in Huazhong University of Science and Technology in Wuhan, capital of central China's Hubei Province, Sept. 1, 2012. A total of 7,558 freshmen are enrolled in Huazhong University of Science and Technology this year. (Xinhua/Xiao Yijiu) (6)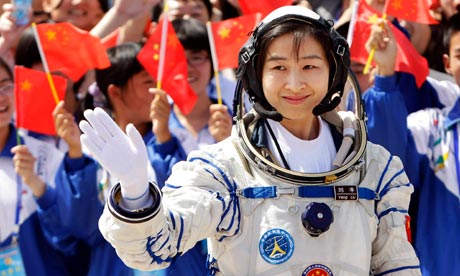 Chinese astronaut Liu Yang (7)


Quite a difference!
There are things about the Chinese government that I do not like or trust. The communist party still runs the country, using all the odious apparatus of a police state - secret police, censorship, propaganda, detention without trial, secret courts - to stay in control. They seems to be making expansionist noises in Asia, threatening Japan and the Philippines over territorial rights. There is the perennial issue of Taiwan. They continue to prop up the truly evil regime in North Korea. Old habits die hard, and I know that there are those in the Chinese government (especially their military) who view us as the enemy. They have no regard for such things as copyright, patents or other aspect of international law (less politely, they are a pack of thieves). And... well, when somebody views you as their enemy, and that somebody has nuclear missiles... Perhaps I may be forgiven for having something of a dim view of China.
But China is more than the Chinese Communist Party and the ghost of Mao. There are well over a billion people there, and they are industrious, increasingly well-educated, increasingly affluent, and with a great deal that they can rightly be proud of. They have the same sorts of hopes for themselves, their children and their country that we have. The handful of Chinese that I have known have been... well... normal. They didn't call people "comrade", extol the virtues of a socialist workers paradise, scowl grimly at "American imperialists", or go about looking as if they couldn't wait to nuke the place. Indeed, it seems to me that the Chinese I have known have been pretty rabid capitalists, intent on working hard to get ahead and make a good living. And, on a more personal note, it seems to me that they have been trying very hard to deal with the problem of abandoned children.
I don't say that China is a paradise or that it hasn't got its problems: one-party rule, secret police, corruption, income inequality, pollution, a large part of its population that is still very rural and very poor, the One Child Policy, and all the other pains normal to a rapidly-growing country as well as those lingering traumas of the past (in living memory, tens of millions of Chinese have died of war, famine, torture and wholesale murder). I don't say that our two countries don't have their differences. As I say, old habits die hard, and I make no doubt that there are many Chinese who have absolutely no love for the United States. I hope that they are very much in the minority. I hope for a bright future for China, the land of my daughter's birth. Above all, I hope that our countries can live in peace and increasing friendship so that, if my daughter returns there some day, she will find a welcome not only as a daughter of China, but also as an American.
=====
(1)
http://i0.wp.com/www.causticsodapodcast.com/wp-content/uploads/sites/5/2012/12/the-good-earth-movie.jpg
A word or two about the movie "The Good Earth" is in order. Against the wishes of The Good Earth author Pearl Buck, the lead cast members in the movie adaption of her novel were all Anglo. This is not surprising given that the film was made in the '30s. Some thought was given to (gasp!) casting Chinese-American actress Anna May Wong as O-Lan, but the role eventually went to Luise Rainer in part because anti-miscegenation laws forbade white actor Paul Muni (Wang Lung) to kiss a non-white woman on screen.
http://en.wikipedia.org/wiki/The_Good_Earth_(film
)
(2)
http://www.histomil.com/viewtopic.php?f=223&t=2116
(3)
http://chineseposters.net/posters/pc-1960-001.php
(4)
http://asturiasenelmundo.blogspot.com/2012/04/shanghai-china-lugares-de-interes-y.html
(5) http://www.moddb.com/groups/tanks/images/type-96
(6)
http://news.xinhuanet.com/english/photo/2012-09/01/c_131821506_10.htm
(7)
http://www.theguardian.com/world/2012/jun/16/chinas-first-female-astronaut-space
It is worth noting that the "Father of China's Space Program", Dr. Qian Xuesen, got much of his education here in the United States and was a major contributor to OUR space program. Unfortunately, the government got the idea that he was a communist in the '50s and hounded him out of the country.
http://en.wikipedia.org/wiki/Qian_Xuesen